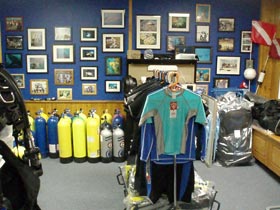 Our scuba boutique shop is conveniently located at 886 71st Street in Bay Ridge, Brooklyn.
We are carrying a full line of skin and scuba equipment. If we don't have it in stock, it can be ordered and delivered promptly. Brands include: Sherwood, Cressi, Oceanic, Genesis, Henderson USA (Wetsuits), Neosport, Akona, Lavacore, Trident and Innovative Scuba and more.
We can also fulfill all of your rental needs.
Store hours are by appointment between 10:00am and 8:00pm everyday. Call us at 917-846-6713 before visiting. We're happy to open shop for you!